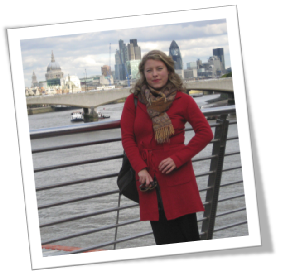 Karen T. Slingenberg lives and works in The Hague, the Dutch governmental capital, but also regularly spends time in London at her family's apartment.
Karen was born in Rotterdam in 1974 to an English mother and a Dutch father.
She grew up in Holland as well as England. She lived in the South of
England from age six and returned to the Netherlands in her teens.
After completing her secondary education at The International School of The Hague in 1992, Karen went on to study English Language and Literature at Leiden University in The Netherlands. She specialized in Stylistics and wrote her thesis Indian Voices in English: A Study of Indian English Language use in the Literature of Indian Writers and received her Masters in 1998.
Karen always took a vivid interest in writing, reading, culture, music and the arts, but the necessity of earning an income did not always lead to jobs in these areas. She worked in administration, publishing, translation and even voice overs, but most recently ended up at international primary education in a part time job. Next to her career Karen is a single mother with a son.
The passion for writing never left Karen and in 2010 she decided to work towards becoming a (freelance) writer. Ideally she would like to do this full time but until that time she will follow the often given advice: "Don't quit your day job just yet".
Karen has written articles, columns and book reviews, of which some have been published.